Vietnamese boxer beats Spanish rival to advance to World Championship's semifinals
Vietnamese boxer Nguyen Thi Tam trounced Spanish rival Laura Fuertes 5-0 in the women's light flyweight category to advance to the semifinals of the IBA Women's World Boxing Championships in New Delhi.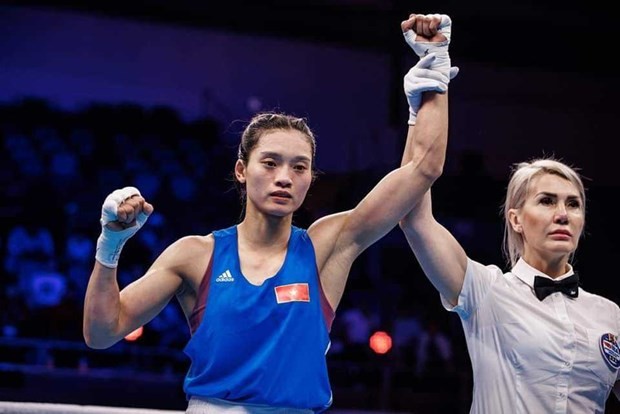 Nguyen Thi Tam beats Spanish rival Laura Fuertes 5-0 to advance to the World Championship's semifinals. (Photo: VNA)
With this victory, Tam has at least secured a bronze medal and a prize of 25,000 USD in the tournament.
Currently, three out of the four boxers to compete in the semifinals of the Championship have been identified, including Tam, Wassila Lkhadiri (France), and India Nikhat Zareen (India). In the semi-finals on March 23 evening, the Asian champion will face Wassila Lkhadiri.
Tam beat Modukanele Lethabo Bokam of Botswana in the women's light flyweight category, and two-time world champion Kyzaibay Nazym of Kazakhstan 5-0 in the previous rounds.
The 28-year-old boxer is currently the best female of Vietnam in her 48-50kg class and is also No 1 in the Boxrec ranking. She has won many local titles, and her best international results are two Asian championship golds in 2017 and 2022.
Tam is the last Vietnamese boxer remaining at the tournament after her eight teammates were beaten.
Vietnam's best result at the world championships so far was a bronze medal by Nguyen Thi Huong at the 2019 championship in Russia.
At the same tournament, Tam was denied of a bronze after a controversial decision.
The March 15-26 tournament features more than 350 boxers, a record number, from more than 70 countries.
The World Championships are not a qualification event for the Paris Olympics 2024, as declared by the International Olympic Committee (IOC). The IBA, however, has still declared itself as a main qualification event.
(Source: VNA)