Stunned with Wild Vegetable World in Cam Mountain
If you have not ever set foot on Cam Mountain, An Giang province, you will surely feel regret for not having been there. Eating pancakes, grilled fish or steamed fish with natural forest vegetables is fantastic.
That simple food has become a typical culinary culture of Cam Mountain. This legendary popularity has inspired millions of people to come to Thien Cam Mountain to enjoy the taste of wild vegetables.
Irresistible appeal from colorful, savory vegetable stalls
Going to Cam Mountain to taste the best of wild vegetables in the dreamlike season.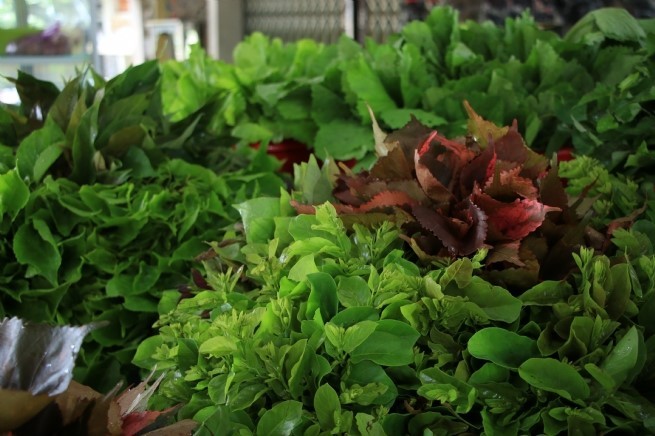 Copperleaf is one of the most popular wild vegetables.
The peak of Cam Mountain is considered the "roof of the Southwest", a very famous spiritual address, where the climate is excellent, said to be the "twin" to misty Da Lat. Soil and natural conditions are suitable for wild vegetables to grow all year round. Local wild vegetables are deliciously enjoyed by many visitors to Cam Mountain.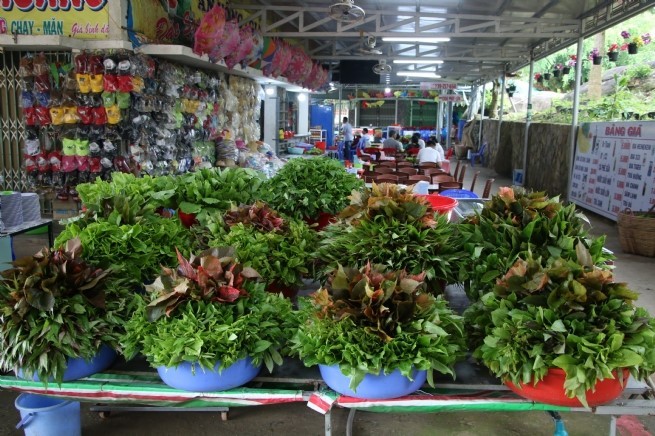 Colorful stalls of wild vegetables.
There are 30 kinds of wild vegetables in Cam Mountain. Each variety has a strong aroma and taste of soil and climate of Seven Mountains. It is very important to know how to enjoy wild vegetables in the right way. If you don't know how to mix them, they will be not good as they should be. Fig leaves taste acrid, brindle berry leaves taste sour, Ming aralia leaves taste strong, ficus subpisocarpa leaves and cynometra ramilflora taste sour, acrid and aromatic. You can mix these ingredients as you wish to have your best enjoyment, depending on your taste. But no matter how you eat them, wild vegetables are really nutritious and healthy.
Such are top-class wild vegetables on Cam Mountain.
The mix of pancakes with wild vegetables
All eateries display native wild vegetables and pancakes. Xeo cake, a kind of pancakes, is very popular and favorite here. Currently, there are dozens of vegetable pancake brasseries in Cam Mountain. Given strong competition among providers, food quality is increasingly improved, delicious and affordable to customers.
Vegetarian or meat-mixed pancakes are enjoyed with different vegetables. Xeo cake is more delicious when eaten with as many vegetables as possible.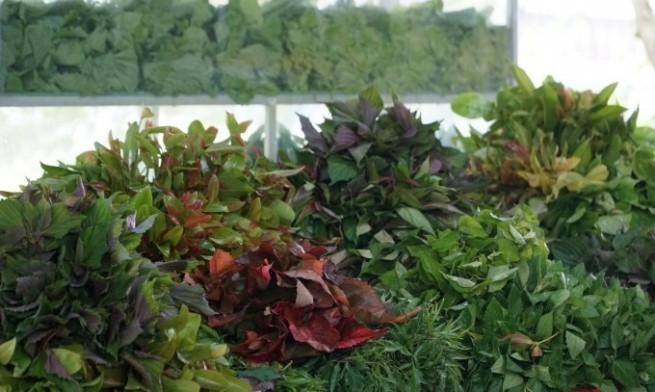 There are about 30 kinds of wild vegetables on Cam Mountain, which are also called medicinal foods.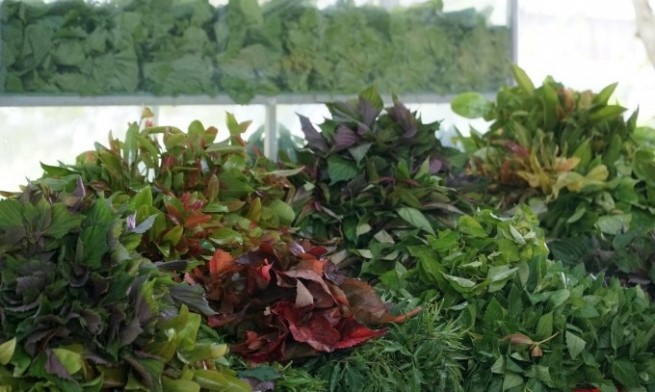 Visitors are absolutely "stunned" with vegetables in restaurants.
A perfect mix of colors and flavors makes taste buds burst into emotions. The aroma and fatness of Xeo cake is felt throughout the body.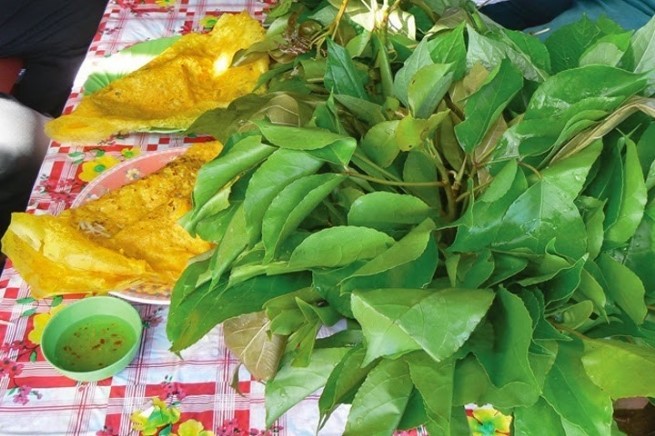 Xeo cake with wild vegetables is an unforgettable dish to all visitors to this place.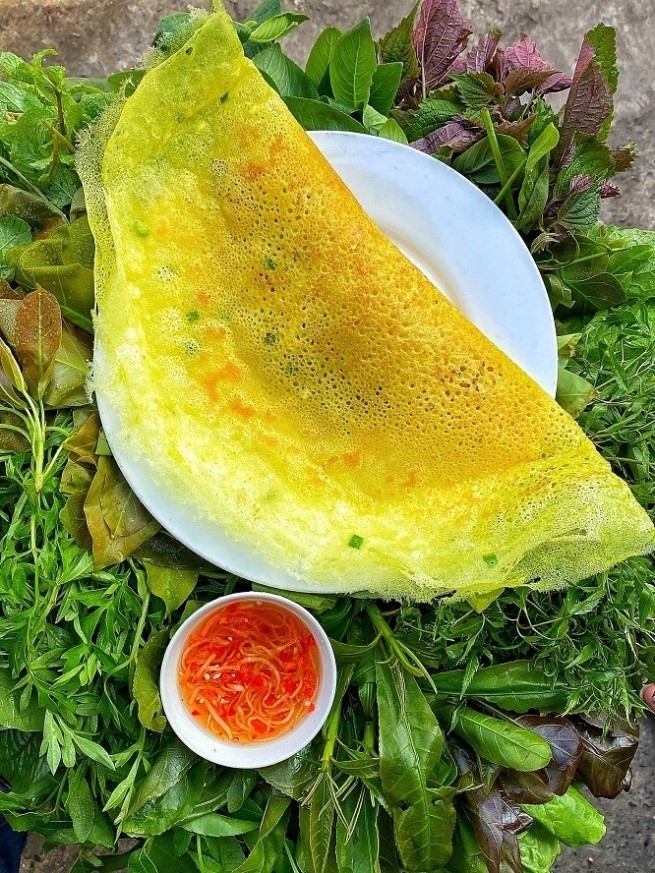 Once tasted, you will surely want to revisit restaurants here to see various wild vegetables amazingly decorated. Enjoying hot Xeo cakes in a cool atmosphere on the peak of Cam Mountain, the taste is more distinctively delicious.
Thien Cam Mountain is regarded as a gathering place of heavenly and earthly quintessence. This is why this place was chosen as a practicing place for legendary monks. Going to Cam Mountain to practice teachings was almost a way to prove their class and status in the region. They led an ascetic life with only wild vegetables, fruits and pure water. But, they lived a long life and attained enlightenment. Therefore, Cam Mountain has many pagodas, shrines, and temples, making this sacred mountain one of the symbols of this place in the middle of the sky.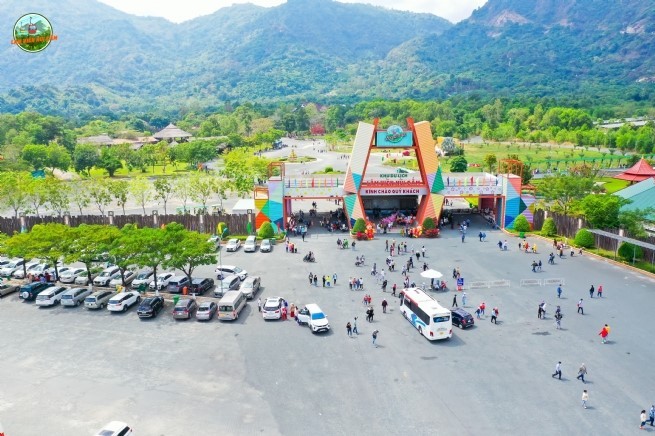 Tourists are crowded at the cable car departure to sacred legendary Thien Cam Mountain.