South Africa's Freedom Day celebrated in HCM City
The Honorary Consulate of South Africa in Ho Chi Minh City hosted a ceremony on April 21 to mark South Africa's 24th Freedom Day (April 27), the 25th founding anniversary of diplomatic ties with Vietnam and the 100th birth anniversary of late President Nelson Mandela.
Speaking at the event, South African Ambassador to Vietnam Mpetjane Kgaogelo Lekgoro highlighted the increasingly developing relations between the two nations.
The two countries agreed to intensify time-honoured friendship and multifaceted cooperation, especially in politics, trade, justice, science, technology and defence.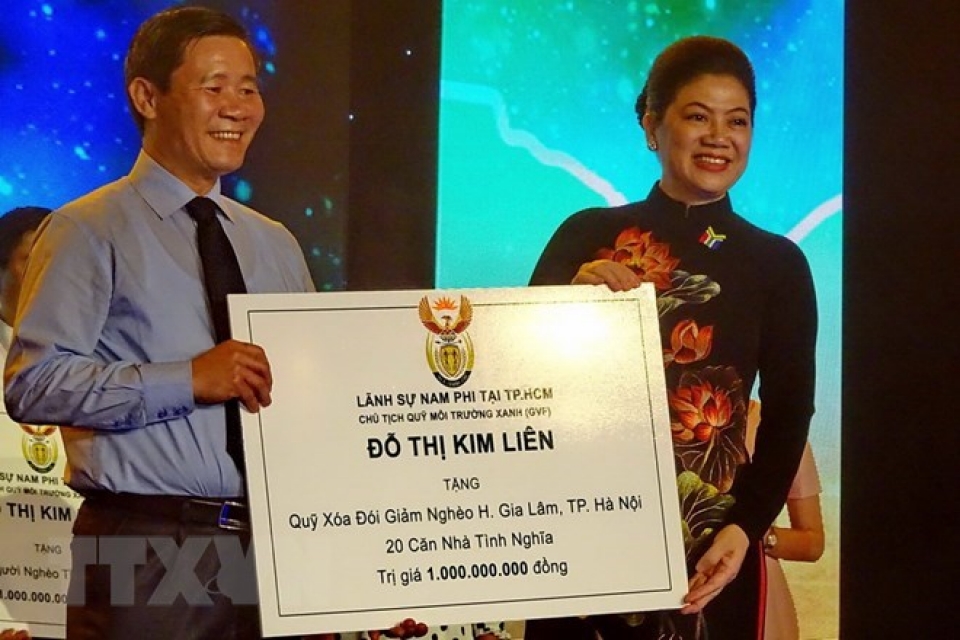 South Africa's Honorary Consul in HCM City Do Thi Kim Lien (R) presents aid worth 1 billion VND to a poverty reduction fund in Ha Noi's Gia Lam district.
The bilateral collaboration in telecommunications, training and crime prevention has been also stepped up since the South Africa-Vietnam Inter-Governmental Partnership Forum was set up in 2004, he added.
Mentioning the role of South Africa's Honorary Consul in HCM City Do Thi Kim Lien, the ambassador affirmed that she has made great contributions to boosting bilateral ties by initiating and organising various exchange programmes and trade promotion activities.
The Honorary Consul had received a letter of compliments from the South African Government for her active contributions to promoting its images in Vietnam, Lekgoro said.
Le Quang Long, Director of the municipal Department of Foreign Affairs, said Vietnam always attaches importance to the partnership for cooperation and development with South Africa.
He showed his belief that the bilateral relationship will develop stronger this year thanks to concerted efforts of both sides, for the common interests of their people.
On this occasion, the Honorary Consulate of South Africa provided an aid grant worth 5 billion VND (220,000 USD) to support charitable activities in Vietnam, including building houses for poor people, caring for Heroic Vietnamese Mothers, and presenting scholarships to poor students with good learning performances and disabled students.
(Source: VNA)