Saigon Hi-Tech Park, US partner sign MOU to improve IC design capability
WVR/VNA - On May 30, the Saigon Hi-Tech Park (SHTP) in Ho Chi Minh City and Cadence Design Systems, a multinational computational software company of the US, signed a memorandum of understanding on cooperation in developing electronic design manpower and promoting the semiconductor industry in Vietnam.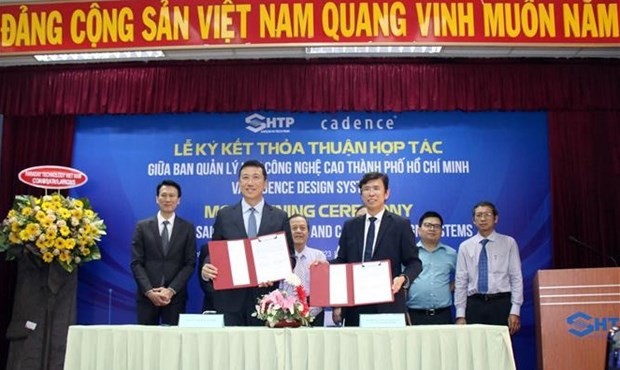 Saigon Hi-Tech Park, US partners to improve IC design capability: At the signing ceremony. (Photo: VNA)
Under this partnership, Cadence, a world leading company in electronic design, can provide integrated circuit (IC) design software tools and related training programmes for universities in Ho Chi Minh City via its academic network.
Nguyen Anh Thi, Head of the SHTP Management Board, said the cooperation with Cadence will give local students a chance to access the latest technologies and methodologies in IC and system design, and acquire practical experience that will help them succeed in the high-tech industry. It will also help strengthen the capability of the SHTP Chip Design Centre, thus contributing to the local semiconductor industry.
Michael Shih, Corporate Vice President of sales for Asia-Pacific and Japan of Cadence, said his company cooperates with the SHTP and universities to help develop electronic design manpower in Vietnam. By providing access to its software, the firm aims to equip the next generation of engineers with the skills they need to contribute to the growth of the high-tech industry in Vietnam.
Addressing the signing ceremony, Deputy Minister of Science and Technology Tran Van Tung said foreign businesses value Vietnam's development potential, noting that the SHTP's focus on training IC design manpower is the right direction for creating high-quality human resources for industries in the time ahead.
Duong Anh Duc, Vice Chairman of the HCM City People's Committee, said the city is now a potential destination for foreign investors, including those in the electronics and IC industry. As global supply chains are shifting, the SHTP should ready high-quality human resources to attract investment in this sector.
(Source: WVR/VNA)