Web3 job prospect in the digital era
Web3 Job Fair Global, an event jointly organized by FUNiX and UFIN Group, opened up many opportunities to learn and access job recruitment information in the field of Web3, a fast-growing technology sector.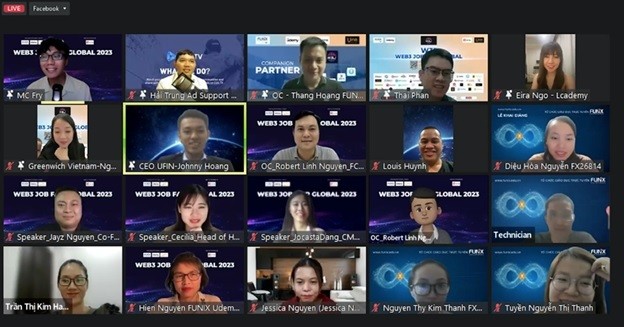 The event opened up many opportunities to learn and access job recruitment information in the field of Web3, a fast-growing technology sector. (Photo: FUNiX)
Web3 has become a buzzword lately because it represents the next generation of the Internet, where decentralization, privacy, and user empowerment are prioritized. Web3 represents a dramatic shift in the way we think and use the Internet. Its innovative and disruptive potential has attracted the attention of investors, entrepreneurs, and developers alike.
Web3 Job Fair Global introduced featured speakers who are Web3 experts from well-known brands in the region and attracted nearly 3,000 attendees and followers online. It not only provided information on attractive Web3 job opportunities, but also helped connect recruiters and candidates, opening a path for job-seekers to access great global education and job opportunities.
Opening the program was Keynote 1 with the topic "The future of work in the Web3 Industry" by Cecillia Y, Head of Huobi Live (China). The presentation delves into 3 key points that highlight the transformative potential of the Web3 industry and the future of work: Web3 Market Potential, The Future of Work in Web3.0, and What do job-seekers and students need to prepare.
According to Y, the Web3 industry will reshape various fields and give individual users unprecedented power. To enter the Web3 era, characterized by fierce competition, proficiency in blockchain and Web3 technology is essential. Knowledge in programming, design and blockchain and Web3-based application development are also of paramount importance.
"Job-seekers should also equip themselves with skills such as project management, research and creativity, analytical and decision-making skills, communication skills, the ability to build a personal brand," said Y.
In the following speech on "What are the opportunities in Web3 for Start-ups & Small Businesses", Jayz Nguyen - Co-founder/CMO of Mesea NFT Exchange (Vietnam) elaborated on the prospects for startups in the Web3 era, when new technologies such as blockchain, dApps, AI, cryptocurrencies… dominate all aspects of life.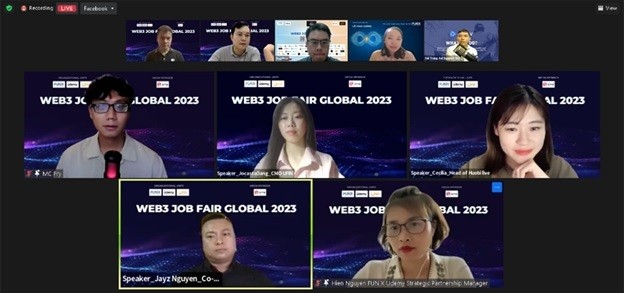 The seminar's speakers shared that Web3 allows individuals to leverage their skills and expertise in a decentralized and globally connected environment. (Photo: FUNiX)
"Startups have a lot of potential to develop the technologies that govern Web3 today, such as in the finance and healthcare industry. You should try to devise solutions to customers' problems, engage with Web3 communities, foster collaboration and partnerships within the Web3 ecosyste, and educate and onboard users effectively. Always be willing to change and adapt to any situation," advised Jayz Nguyen.
Speaking on "Freelancing and remote work in Web3 - Key knowledge and skills for job-seekers", CMO UFIN Jocasta Dang said that the Web3 industry offers exciting opportunities for freelancers and remote workers. Web3 allows them to leverage their skills and expertise in a globally connected and decentralized environment.
There are countless attractive jobs both inside and outside the IT industry. In order to take advantage of these opportunities, young people need to equip themselves with various skills: Communication and collaboration; Self-management and discipline; Adaptability and flexibility.
Answering the question "How can job seekers stay updated with the latest trends and technologies in the rapidly evolving Web3 industry?" from the audience, Hoang Viet Thang - Director of FUNiX Digital Resource Center, Head of the Organizing Committee advised job-seekers to join communities (on Discord, Telegram, etc.) to learn; attend industry conferences, events focused on Web3 and blockchain technology; take advantage of learning platforms like Udemy, Udacity… to improve technical knowledge.
If in need of guidance, young people can consider online courses at FUNiX, where there are thousands of mentors ready to support. In addition, with a solid network of business partners, FUNiX can also provide job support for students in this new fascinating field.
Attending the event as a co-organizer, the representative of UFIN Group - General Director Hoang Phuoc Thanh also shared: "With the rapid development of Blockchain and Web3 technology, the demand for talent is ever increasing. For Ufin Web3 Incubator, nurturing talents is our top priority. We hope that Web3 Job Fair Global series will attract more attention from businesses, who hopefully can join force with us to build a high-quality Web3 community, contributing to the economy's development".