Ninh Thuan no longer the land of fierce heat and strong wind
15 years ago, I dropped by Phan Rang – Thap Cham, Ninh Thuan province. The city was quiet with schorching sunny and strong windy weather. The long and white sandy beaches, pristine bays were lack of tourists due to modest investment.
Ninh Thuan is once considered as the ideal place to be stationed a big nuclear power plant. However, at present, nuclear power is no longer approriate. Therefore, the Vietnam's National Assembly officially stopped the Ninh Thuan nuclear power plant project in November 2016. This was a precise decision and in line with general development trend.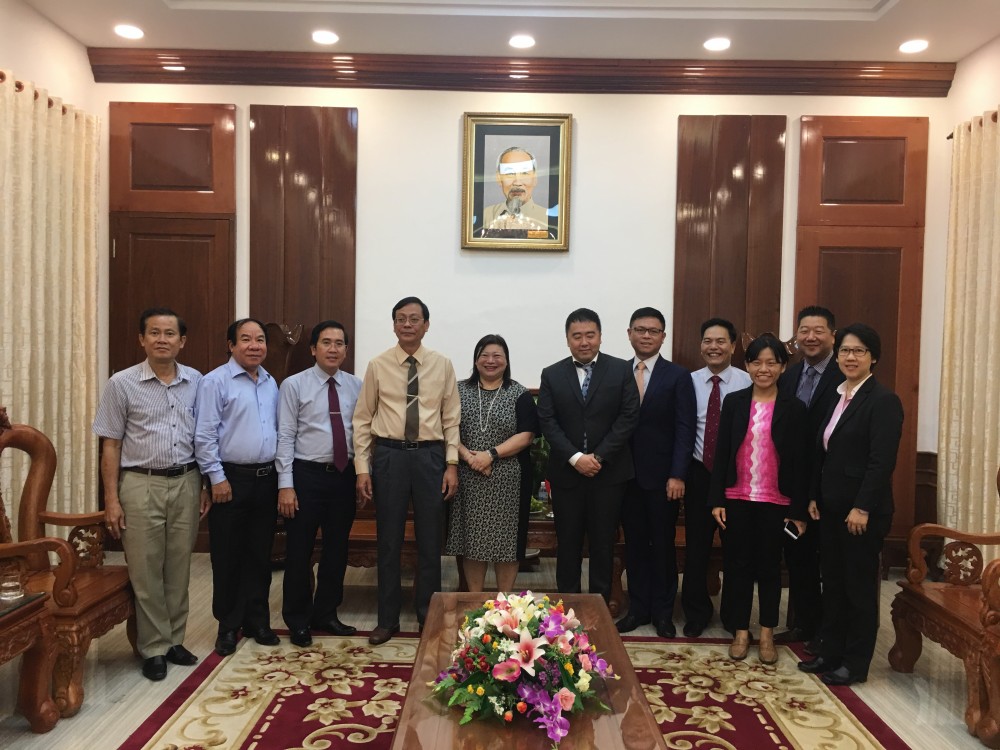 Ninh Thuan provincial leaders receive diplomats and businessmen from Canada and Singapore.
When 'the fairy' wakes up
In the context that the national-level and big nuclear power plant project was halted, Ninh Thuan's economic development policy had to be adjusted. Along with the concern in power security, Ninh Thuan also faced the lack of government revenue as the province's agricultural - aquaculture and tourism industries were limited due to its driest and fiercest weather in Vietnam.
However, when the province was struggling to cope with the above-mentioned concerns, a good news came. On 11th April 2017, the Prime Minister promulgated Decision No. 11/2017/QĐ-TTg on mechanism to develop solar power – renewable energy which were the advantages of Ninh Thuan as this province owns the Vietnam's highest level of sunshine hours as well as dry and uncultivated land which were barriers to develop other sectors.
Leaders of province and departments, agencies carried out activities to lure foreign and domestic investments in advantageous sectors. The quiet Phan Rang – Thap Cham city then was figuratively compared as a fairy was waking up. The 64km distance from Nha Trang International Airport to Phan Rang – Thap Cham city could take 50 minutes by car, which creates favourable conditions for investors.
In May 2016, I went back to Ninh Thuan with the aim to explore the opportunity to invest in solar energy plant project. I was cordially received by Secretary of the Provincial Party Committee Nguyen Duc Thanh, Chairman of the Provincial People's Committee Luu Xuan Vinh, and leaders of departments, agencies. Mr. Thanh and other provincial leaders informed investors about the development plan of key sectors including renewable energy.
My company quickly decided to invest in 168MV solar energy plant in Ninh Son district. Our project was actively supported by the Prime Minister, the Ministry of Industry and Trade and the Vietnam Electricity Corporation in administrative procedures. The project set to work on 7th June 2018 and officially merged with the national electricity network on 17th June 2019.
Enabling development and accompanying with enterprises
The dynamism of leaders of the province as well as its departments, agencies capitalized on Ninh Thuan's potential development. With the motto "Enabling development and accompanying with enterprises", we have a very firm belief in the potential of combination of solar energy and high-tech agriculture, sea tourism, industrial crops.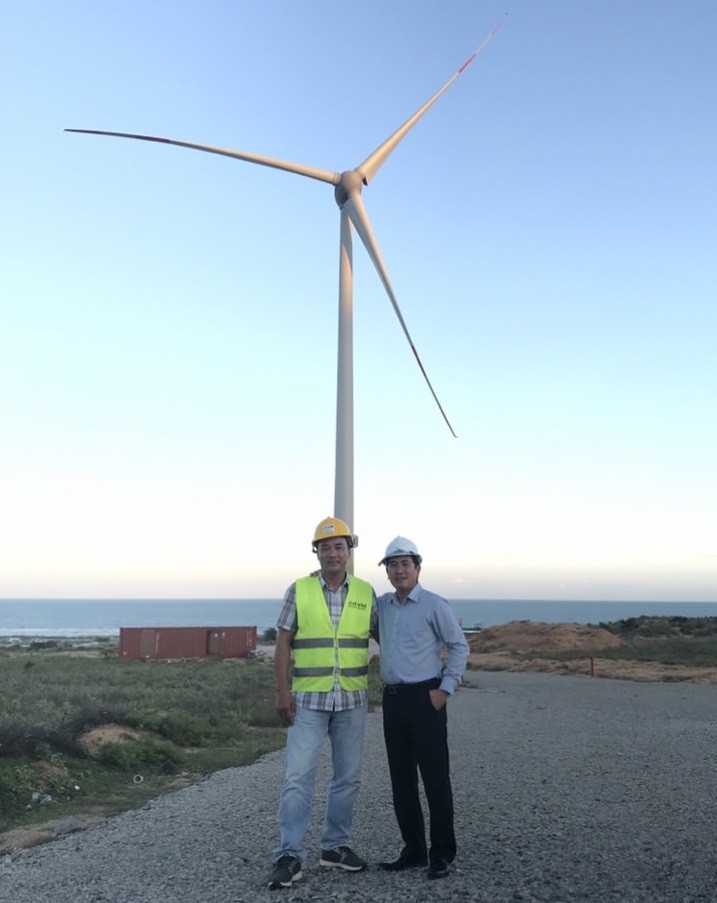 Wind energy is one of key development areas of Ninh Thuan.
The provincial leaders have always been a part of Prime Minister's delegation on many aboard trips to exchange experiences with countries having similar economic strengths as Ninh Thuan. Chairman of the People's Committee Luu Xuan Vinh has been to Canada to learn grape growing, visit and work with large tourism groups. The provincial Vice Chairman in charge of industry, agriculture and tourism has also actively embarked on such visits to learn from regional countries about renewable energy in agriculture in order to create added value and jobs for farmers.
Later May 2019, at the invitation of Sunseap Link Solar Power Joint Stock Company, the provincial delegation led by Mr. Tran Quoc Nam paid a visit to Singapore and Malaysia to learn experiences in implementing renewable energy power projects in high-tech agriculture. Thanks to the support of Sunseap Link and Singaporean and Malaysian partners, the delegation has had a really busy and effective business trip. In the same month, Mr. Pham Van Hau led a delegation to Japan to learn how to apply renewable energy in agriculture.
Besides, a highlight of Ninh Thuan is tourism and hospitality. The province coastal line has been revived with high-end resorts and five-star hotels numbering a total of 4,000 rooms. Mr. Le Van Binh, Vice Chairman of the Provincial People's Committee has informed investors that the Government has agreed to add Binh Tien - Vinh Hy and Ca Na - Mui Dinh seaside resorts to the planning of national tourist attractions in 2020 with a vision to 2030.
A policy in the long run is necessary
Not only a potential destination, Ninh Thuan now stands among Vietnam's top 5 provinces attracting highest investment. Projects worth trillions of VND have received direct investment, a significant contribution to Ninh Thuan's economic development.
The consistent orientation and policy of the Provincial Party Committee and People's Committee, as well as the Government's sound policies shall provide motivation for investors to come, stay and regard themselve as members of the province and strive for shared development. Although the achievements after 2 years have affirmed Ninh Thuan's standing, the province still needs the Government to establish a long-term and reasonable policy since policy decisions must have suitable timing. For instance, Decision No. 11/2017/QD-TTG was no longer be in effect till June 30, 2019, which means the Decision was only in force within 24 months, making it nearly impossible to finish projects on site clearance.
Despite its great potential for renewable solar power, Ninh Thuan planned to charge a surprisingly low cost of only 1,525 VND per kWh. With this electricity price, the capital recover process will extend over 17 years while equipment lifespan is less than 20 years. Banks and credit institutions are unlikely to lend money and investors are not dare to invest in risky projects with up to 85% of bankruptcy possibility.
The leaders of Ninh Thuan province have made the best efforts. Whatever the investors' wish, investment decision depends largely on a reasonable policy. For example, we can not develop a policy by comparing electricity prices in Vietnam with those in developed countries, but the price should be charged on reality. Furthermore, the price of electricity in projects invested by the private sector benefits the society, protects the environment, reduces the country's public debt and is lower than the price of electricity generated by coal (1,896 VND per kWh) - one factor that is devastating the environment and causing greenhouse effect.
Thinking about this issue, I realize that Vietnam is in urgent need for a smooth and appropriate policy and follow the trend of countries with slow growth rate and developing countries. We must be aware that Vietnam remains a low-income and developing economy. We should know ourselves and understand others so as to take step by step toward the path of sustainable development.
Nguyễn Hoài Bắc
(TGVN)