Vietnamese goods introduced at int'l trade fair in South Africa
Vietnamese enterprises are displaying their products at the 25th South African International Trade Exhibition (SAITEX), which began in Johannesburg of South Africa on June 24.  
As the largest trade fair in Africa, the event features nearly 400 enterprises from 36 countries. It is expected to draw thousands of visitors.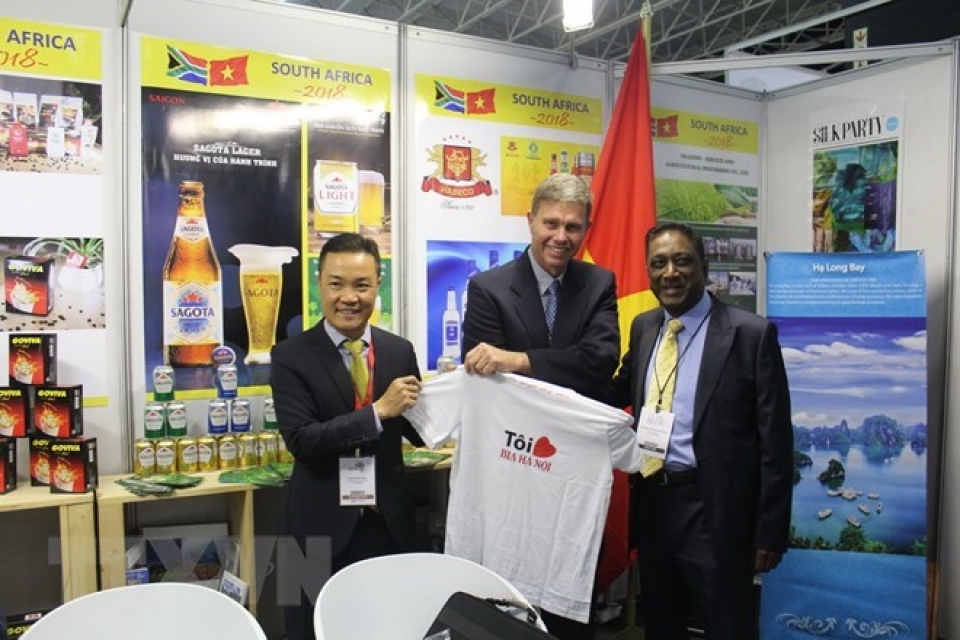 At a Vietnamese booth at the SAITEX 2018.
Ngo Khai Hoan, Deputy Head of the Department of Africa, West Asia and South Asia Markets under the Ministry of Industry and Trade (MoIT) said Vietnam's attendance at the event is hoped to help expand trade ties between Vietnam and South Africa.
South Africa is a key market and the most important trade partner of Vietnam in Africa, he said.
Although two-way trade currently stands at only 1 billion USD, the potential for expanding trade between the two sides is huge, Hoan stressed.
Beside introducing Vietnam's traditional products such as coffee, rice, textiles and construction materials, Vietnam, for the first time, has brought high-tech medical products used for cardiology.
According to Dao Manh Duc, head of the Vietnamese Trade Office in South Africa, South Africa and other African countries are potential markets for Vietnam's commodities of various sectors.
There are more and more successful transactions between Vietnamese businesses with African partners, he said, adding that the SAITEX offers a chance for Vietnamese firms to learn about the demand of the African market, and to seek business opportunities and set up partnerships.
On the occasion, the MOIT's trade promotion delegation led by Hoan and representatives from the Vietnamese Embassy will have working sessions with those from the ministries of mining, industry and trade, foreign affairs and health of South Africa to seek to enhance trade bonds between the countries.
Seminars themed "Doing Business with Vietnam 2018" will be held in Johannesburg on June 26 and Cape Town on June 27, offering chances for the two countries' enterprises to understand more about operating in the Asian country.
(Source: VNA)