Evidence of Vietnam's maritime sovereignty showed in Hai Phong
An exhibition was opened in the northern city of Hai Phong on April 8, giving visitors an insight into historical and legal evidence proving Vietnam's sovereignty over Hoang Sa (Paracel) and Truong Sa (Spratly) archipelagos.
The exhibition, held at Ngo Quyen High School, showcases more than 80 maps, documents and photos testifying to Vietnam's sovereignty over the two archipelagos. It also features video clips presenting the system of this historical and legal evidence.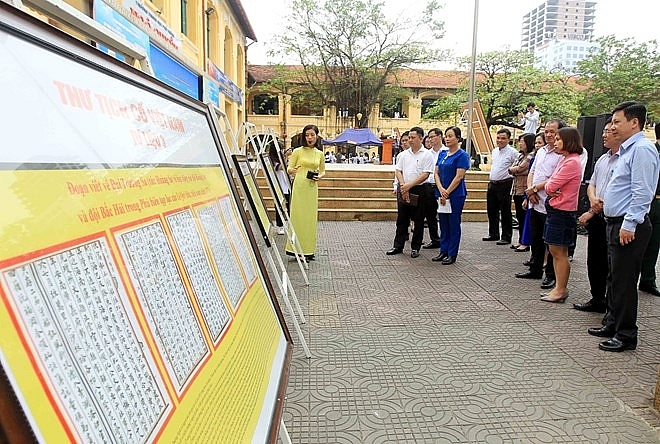 Visitors to the exhibition at Ngo Quyen High School in Hai Phong city. (Photo: VNA)
At the opening ceremony, Director of the Hai Phong Department of Information and Communications Luong Hai Au said seas and islands are a sacred and inseparable part of Vietnam throughout history. This exhibition is an important dissemination activity, helping to improve the public's access to historical and legal evidence proving the country's undeniable sovereignty over Hoang Sa and Truong Sa, Au said.
These proofs once again affirm that Vietnamese people have practiced their sovereign right over the archipelagos for a long time, he said, adding that they also refute some countries' distorting arguments and groundless sovereignty claims to Hoang Sa, Truong Sa and other areas of Vietnam in the East Sea.
The official added the display also looks to improve public awareness, especially among students, of the safeguarding of the Fatherland's maritime sovereignty; enhance people's trust in the evidence of Vietnam's sovereignty over Hoang Sa and Truong Sa; and encourage joint efforts to protest against wrong information and hostile viewpoints about the country's maritime sovereignty.
The exhibition is scheduled to last through April 10.
(Source: VNA)